Palm Beach County's Best Poured-In-Place Rubber Installation Services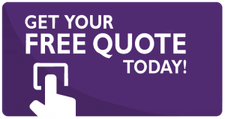 Poured-in-Place Rubber consists of a two-layer structure with a basement made entirely of recycled polyurethane and SBR (Styrene Butadiene Rubber), and a top layer made entirely of reused post-industrial EPDM rubber or TPV Granule and an aliphatic urethane or aromatic binder. The more rubber surfacing you want, the more expensive it will be, but the better the playground will be in the end. Poured rubber, wet pour rubber, poured-in-place rubber (PIP), rubber playground turf, bonded rubber stone, or a playground foam surface are all terms used to describe poured-in-place rubber. PIP rubber is an extremely trendy alternative of almost unlimited color choices, in addition to being safe.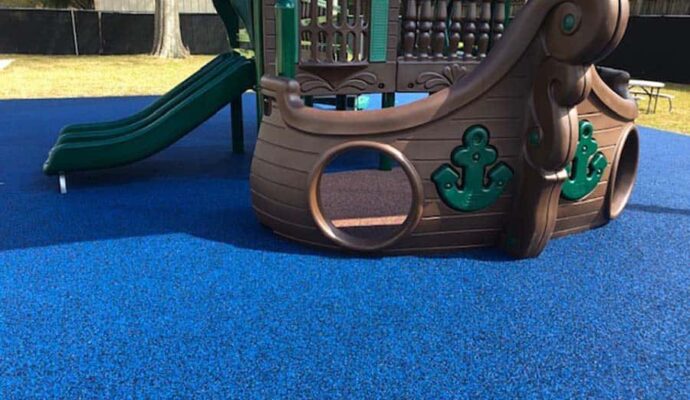 When referring to PIP, you have a lot of choices, from standard blacktop to your own personalized mascot colors. They can be customized to meet your own spatial design requirements, whether it is for a wider area or for walkways across the playground. The standard EPDM rubber granules are used in the wearing course, so you can switch to TPV (Thermoplastic Vulcanizates) granules in two different sizes. More flexibility and UV safety may be added to urethane.
For additional wear safety in these high-traffic environments, standard PIP fitting provides safety inserts under slide exits and swing bays. Poured rubber alternatives are also available for marine environments. PIP rubber provides a quick-drying surface due to its porous nature. We are the best at what we do and our clients trust us all the way. We have integrity and ensure that we will treat your need as if they were our own.
Seamless Surface.
PIP rubber is a safe, smooth playground safety surface that comes in a variety of colors and designs. Surfaces that are poured in place are porous, non-slip, durable, low-maintenance, and ADA compliant. Depending on the options chosen, poured in place rubber costs about $10-$15 per square foot on average. As for every playground surface, there are advantages and disadvantages of using it for playgrounds.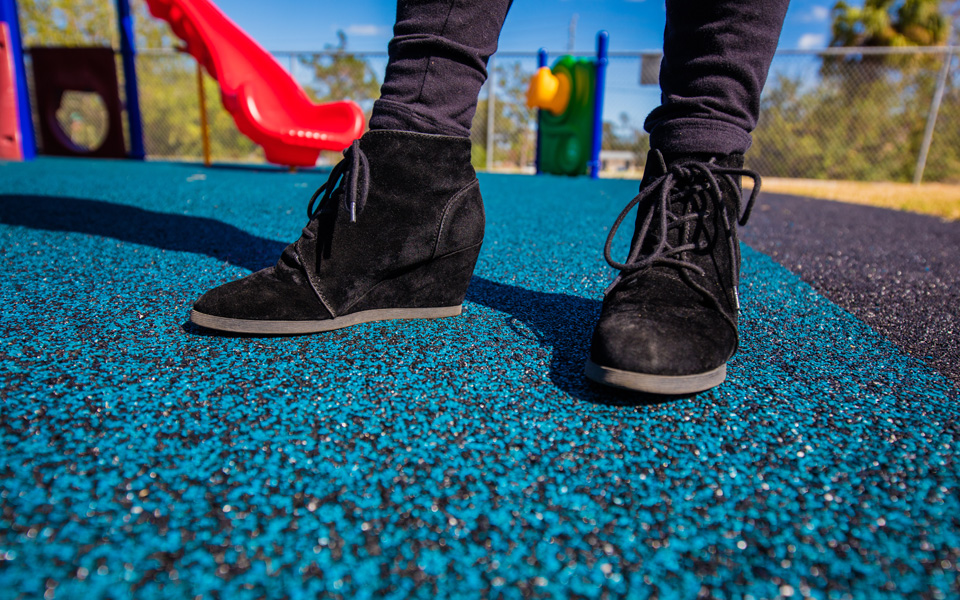 Durable Rubber. Poured-in-place Rubber – Porous, robust rubber is used from the ground up to ensure safety. This ADA-compliant surfacing is self-contained, preventing loose particles from getting into shoes or pockets while still ensuring a smooth, clean, and maintenance-free surface for children to play on. The fact that natural rubber contains latex (a skin sensitizer), studies reveal that interaction with poured-in-place surfacing products causes no skin irritation.
Very Economical. Palm  Beach County Safety Surfacing poured-in-place rubber is mainly used in playgrounds, but it also has a variety of uses in theme parks and childcare facilities. PIP is a cost-effective option since it can be implemented easily and effectively, reducing labor costs. This flat surface is long-lasting and allows wheelchair-bound children easier access.
Great Protection For Our Children. Rubber safety surfacing protects children from scrapes and other cuts. Tiled or rolled-in playground surfaces may create uneven surfaces that pose a tripping threat.
Easy To Clean. What is the best way to disinfect soft fall rubber? Cleaning dirt and debris with a low-pressure water cleaner on the fan setting or a broom can be done from time to time, particularly in the Autumn months.
Seamless Surface. Poured rubber is a kind of playground flooring that is smooth and made up of tiny rubber granules that have been glued together. Rubber mulch that is poured in place has all of the benefits of conventional rubber mulch but none of the drawbacks of loose fill. If you want to save money on maintenance over the life of the playground, poured-in-place surfacing is a great option.
We Use Recycled Materials.
---
Our poured rubber surfacing is a common playground surfacing option made from recycled materials that come in thicknesses ranging from 1-1/2′′ to 4-1/2′′ and are engineered to absorb impact from a variety of fall heights. Poured in place rubber is made up of two layers and is made in a special two-step operation. It is not flimsy (like rubber mulch, wood chips, sand, or dirt).
Long-lasting Surface. Poured-in-place is a green and long-lasting option that will provide you with anything you need on a safe surface. The surface offers reliable fall defense and can be conveniently configured to suit your playground's safety, architecture, and aesthetic needs. Rubber surfacing lasts a long time and can be customized for schools or parks.
Maintenance Free. Rubber safety surfacing is a low-maintenance choice that can last for years. When it comes to a playground, safety and ADA accessibility are critical, and poured-in-place rubber, also known as PIP rubber, is a popular alternative for safety surfacing. The bottom layer is made up of shredded rubber, while the top layer is made up of bright rubber granules.
Great Impact Absorption.  There are no changes or seams in PIP rubber, resulting in a consistent discharge. The impact layer absorbs impact and the surface layer may be defined in one or a mixture of colors for a full professional installation. Many of our playground surfaces are ADA compliant and totally inclusive. Palm Beach  County Safety Surfacing is a pioneer in the field of playground safety surfacing.
How Much Will It Cost?
---
The cost of wet pour rubber may seem expensive at first, but it will save you money in the long term. Rubber flooring for homes costs between $1 and $15 per square foot. The most expensive are poured rubber surfaces, which range from $7 to $15 per square foot. Through various graphics and color variations, this can be amplified.
Does Rubber Flooring Absorb Sound?
---
The backing sheet, which not only provides sound protection but also protects against mold and mildew, is responsible for the majority of its acoustic advantages. The sound-absorbing properties of commercial rubber flooring are well-known. It is also anti-slip, anti-mold, and anti-mildew.
How Long Does Rubber Floor Smell Last?
---
Allow it to air dry and ensure adequate ventilation. It is possible that you will have to go through this phase a couple of times before you are happy with the result. Strong rubber odors would be lessened as a result of this. The odor will usually disappear after 30 days.
Below is our list of additional services:
Locations We Serve
We offer the above surfacing services at the following locations within Florida: